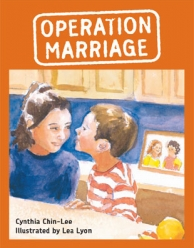 I'm so excited to share this book with you.
Operation Marriage tells the story of a spunky eight-year-old San Franciscan, Alex, whose best friend shuns Alex because she has lesbian parents. Set during the lead-up to California's Proposition 8, the ballot measure that ultimately banned same-sex marriage, the story shows the impact that the struggle for marriage equality has on children—not just those from gay families, but on all children who witness the fight.
Based on a true story, Operation Marriage offers us universal themes— trust, perseverance, standing up to adversity—but its approach to the particular social challenge of marriage inequality is something I haven't ever seen in a children's book. There is power in viewing a problem from a child's perspective, and much that we grown-ups can learn from looking at the world through Alex's eyes.
Alex's parents got married in the slim window that our state allowed them to; others since have not been so lucky. And because I know you're wondering, ultimately Alex's best friend comes around in support of Alex's family. But it happens in a way that makes me cry every single time I read it. Yet no matter how lovely I think this book is, aided by Lea Lyon's gentle, realistic illustrations, what I really hope is that someday this book  will be become part of dusty history, a quaint reminder of how narrow minded our state—our country—used to be.
The super awesome publisher of Operation Marriage, Reach and Teach—you should check out their other titles, too—is offering an autographed, hardcover copy of the book to one of my readers. Leave a comment below (and be sure to give me a way to get in touch with you by leaving your email address or friending me on facebook) for a chance to win. The winner will be announced Tuesday, the day the book is officially launched.
The national launch of Operation Marriage is next Wednesday, November 2. Local supporters can join the author, illustrator, and publishers at the launch party at Kepler's in Menlo Park.
Wherever you are, please read and share this important book!