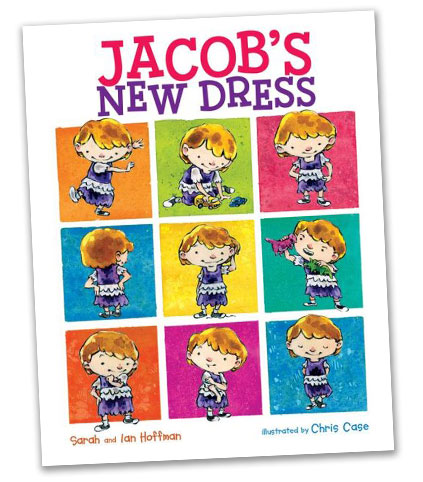 Buy the Book
Amazon | Barnes & Noble | Indiebound | Powell's | Book Passage
About the Book
Jacob loves playing dress-up, when he can be anything he wants to be. Some kids at school say he can't wear "girl" clothes, but Jacob wants to wear a dress to school. Can he convince his parents to let him wear what he wants? This heartwarming story speaks to the unique challenges faced by boys who don't identify with traditional gender roles.
What People Are Saying:
". . .a warmly illustrated picture book meant to comfort both boys who are gender nonconforming and their parents..Jacob's mom's look of concern when he first asks about the dress is poignant, and his dad's words of acceptance ('Well, it's not what I would wear, but you look great') could easily serve as a model for fathers in similar positions...hopeful and affirming."

Kirkus Reviews
"The warm cartoon illustrations convey the mood well and offer readers visual clues to the cruelty, teasing, and struggle with self-acceptance that can occur when children are different from their peers. Purchase this one to encourage discussions of gender, identity, and self-confidence."

School Library Journal
"An ideal companion for families and educators: upbeat yet realistic, astute about peer dynamics, and blessedly lacking in a sermonizing Big Moment."

Publisher's Weekly
"Jacob and his interesting dresses are a wonderful celebration of all that is good in childhood. With creativity, imagination, and resilience Jacob teaches us there are many ways to be a boy."

Melissa Atkins Wardy, author of "Redefining Girly: How Parents Can Fight the Stereotyping and Sexualizing of Girlhood, from Birth to Tween"
"For a long time we have made room for little girls to wear football uniforms or a cowboy suit, and now we are finally opening the doors for little boys to gleefully wear the dresses they love if that is what they want to do. Jacob's New Dress invites all of us to learn with compassion and humor the whole experience of one of those gender creative little boys, Jacob. With no sugar-coating or proselytizing, Sarah Hoffman and Ian Hoffman have done what no other authors have been able to do—tell the heartwarming and uplifting real story of a little boy who wants to wear his dresses-what it's like for him, for his mother and his father, for his teacher, and for all the children around him. Jacob's New Dress is a brilliant and beautifully illustrated book and a must-read for all of us, not just the children, teaching us how to move beyond two boxes, boy/girl, and create a world of gender acceptance for every child, for, in the words of Jacob's mom, "There are all sorts of ways to be a boy."

Diane Ehrensaft, Ph.D., Director of Mental Health, Child and Adolescent Gender Center at UCSF and author of "Gender Born, Gender Made: Raising Healthy Gender Non-nonconforming Children"
"Three cheers for Jacob's New Dress! This is a wonderful story that shows us all that there are many different ways to be in the world. Like Marcus Ewert's 10,000 Dresses, this book has the ability to save lives and change the world. Everyone should read it."

Leslea Newman, author of "The Boy Who Cried Fabulous" and "Heather Has Two Mommies"