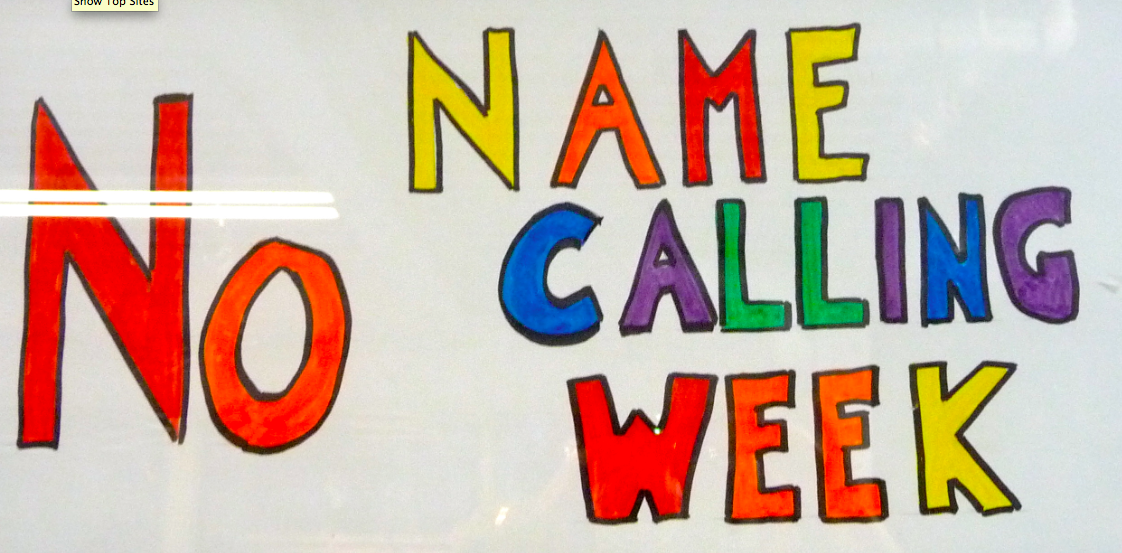 This morning Sam had his nose buried in Mad Magazine when I interrupted him to tell him it was No Name-Calling Week.
Thousands of schools across the country are celebrating the tenth anniversary of No-Name Calling Week, an annual event started by the Gay, Lesbian & Straight Education Network (GLSEN) and inspired by the young adult novel The Misfits by James Howe*. No-Name Calling Week promotes kindness and compassion to eliminate bullying of all kinds, and it's got a really great curriculum and set of activities to start a dialog about kindness.
I told Sam that his school doesn't celebrate the week—the school counselor told me, when I asked her to start it at our school, that they didn't want to do it because expected every day to be no-name calling week, not just one week a year.
Sam said, "People don't really call each other names at my school. Except the eighth graders. They're crazy, and they throw balls at each other. But they don't bother anyone else."
I sat with that for a moment. Really? No name-calling? All those years of Sam being called derogatory feminine names and being hurt physically and emotionally, of stress and strife and fighting with the school to protect Sam from bullies? They're really over?
I leaned over and asked, "Do you feel like the bullying experiences you had when you were younger are behind you?
He considered my question. "Yeah," he said simply, and put his face back into the magazine.
To think: our work to educate the school paid off. Sam's work as a self-advocate paid off. The school's anti-bullying work paid off. I am not complacent; I know that life is not always going to be smooth for my gender-expanding boy, that our work is not over, that even if it were over for Sam we'd need to bring it to the wider world. But this is a moment to savor.
 * Have you read it? I'm admitting freely that most of what I read these days is young adult fiction, and handed to me by Sam. This is one I handed to Sam, to show him other nontraditional kids celebrating who they are instead of being taken down by bullies. Plus it's funny. You should read it.