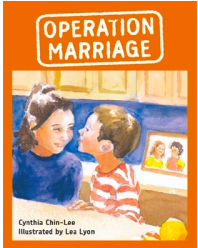 Somehow it escaped my notice that there are two copies of Operation Marriage sitting on my desk waiting to be sent to the readers who won them. (If you saw the mess on my desk, you would understand how this escaped my notice for two years.) The readers never sent me their contact info, and so they never received their books. Let's try this again.
If you would like to win a free, signed copy of Operation Marriage, please comment below. If you happen to be one of the original winners, let me know and you'll get your copy. And my apologies.
From my original review, which you can read in full here: "Operation Marriage tells the story of a spunky eight-year-old San Franciscan, Alex, whose best friend shuns Alex because she has lesbian parents. Set during the lead-up to California's Proposition 8, the ballot measure that ultimately banned same-sex marriage, the story shows the impact that the struggle for marriage equality has on children—not just those from gay families, but on all children who witness the fight." Click the link to read more.
I'm having a thought (and yes, if you could see my desk, you would find this impressive). And the thought is: Operation Marriage starts with conflict. My book, Jacob's New Dress, starts with conflict. I love Operation Marriage; I love Jacob's New Dress. But I don't love that we need to include conflict in order to have a conversation about two women getting married or a little boy putting on a dress. Yet I know that these books are part of–and indicators of–a cultural change. It is happening. Just like the clearing of my desk is happening. Slowly, steadily, one step forward and two steps back. But it's happening.
So comment below. And I promise I'll send you your copy if you win.
-Sarah