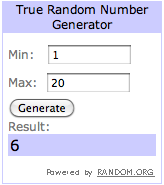 Janice!
Janice will now receive her very own autographed copy of Leslea Newman's new book, Donovan's Big Day, courtesy of the author.
(And here's the glitch in my system: I have three facebook friends named Janice. Would the Janice who posted the winning comment #6 please send me a note on facebook or via email with your address so I can send you Leslea's awesome book?)
Thanks, all, for playing. And please go out and buy Donovan's Big Day!