I got the most awesome email (with an even awesomer attachment) the other day. It said:
From my darling child to yours, I send you a message of hope and love. My daughter wrote this to Sam with no prompting from me (I did part of the tree illustration, that's it!) This story is what she "wants him to think about in scary times." We have so much to learn from our kids.
The email contained a book that her daughter wrote for Sam. I read it and got all teary. And then I realized I wasn't just moved but impressed. The book is sophisticated, smart, and sassy. It's a well-plotted, lovingly illustrated, inspirational story about a boy who triumphs. And I'm going to share it with you here. But first, I'm going to share the author's (pseudonymous) bio:
Ms. Alexis Taylor is seven-and-a-half years old and lives with her two moms in NYC. She is starting second grade this fall. She enjoys Harry Potter, chess, robotics, writing fiction, minor cat harassment, and playing with her 18-month-old sister.
After I read the book, I wrote Alexis's mom back to say that I loved Alexis's book, and that I loved, loved, loved Alexis. And she replied: "We love her too—she is her own brand of fabulous—a completely sparkly alpha-girl who takes no B.S. from anyone—with a sprinkling of super hero." Isn't that what we all aspire to be?
Alexis is an inspiration to me, an unseen force of goodness for Sam, and a blessing for the world.
So, without further ado, I present you with Ms. Alexis Taylor's book, which I hope will be published ASAP by a huge mainstream publisher.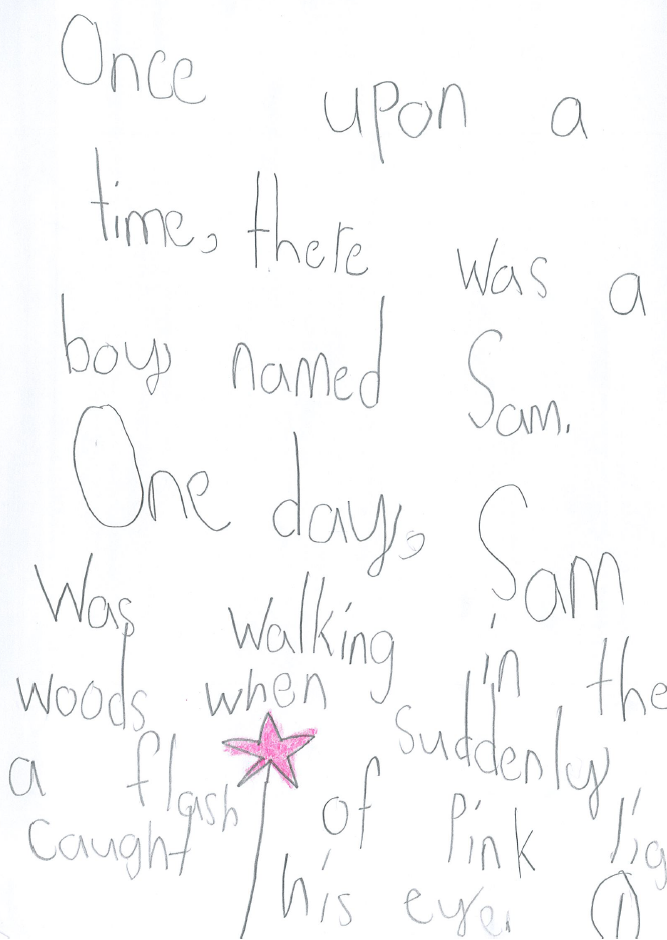 Thank you, thank you, thank you to the fabulous new emerging children's book author, Ms. Alexis Taylor! Your story will change the world.