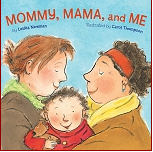 As promised, two of my readers will receive autographed copies of both Mommy, Mama, and Me, and Daddy, Papa, and Me—courtesy of author Leslea Newman—to expand the worldview of the toddlers and preschoolers in their lives.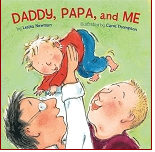 And the winners are…… Carolyn Finken-Dove and  Jacinta Bunnell! You'll see how serendipitous it is that Jacinta won, later in this post.
(Carolyn and Jacinta, please email me at sarah_hoffman@yahoo.com with your addresses so I can send you the books.)
Whether or not you are not a winner this time, I want you to do three things:
Buy Leslea's books and/or ask your local library to stock them.
Try again next time I do a giveaway.
Read on for some random stuff you may find interesting.
The first thing is not so random at all. And it's really good. And it's really two things. The first: Leslea has a new book coming out in April, Donovan's Big Day, about a little boy whose moms are getting married. Ask your local bookstore to stock it, or pre-order your copy from Amazon.
The second good thing: Reach and Teach, publishers of Jacinta Bunnel's awesome coloring book Sometimes The Spoon Runs Away with Another Spoon (see? serendipity!), will soon release their book about same-sex marriage, Operation Marriage by Cynthia Chin-Lee.The book won't be out until next fall, but you can support its production with your pre-order now!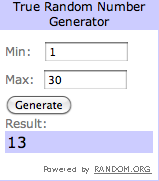 And finally, the long-awaited random side note: Ever wonder how I choose my winners? Wildly funny and crazily wise momblogger Stark. Raving. Mad. Mommy introduced me to RANDOM.ORG, a cool website operated by the computer science school at Trinity College, Dublin that has generated nearly a trillion random numbers for people who need them.  They say:
RANDOM.ORG offers true random numbers to anyone on the Internet. The randomness comes from atmospheric noise, which for many purposes is better than the pseudo-random number algorithms typically used in computer programs. People use RANDOM.ORG for holding drawings, lotteries and sweepstakes, to drive games and gambling sites, for scientific applications and for art and music.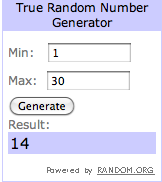 Kinda cool, right?
Happy reading!