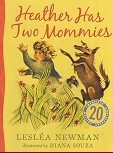 Please note: while comments on this post continue to be welcome, the giveaway is now over.
Leslea Newman published Heather Has Two Mommies in 1989, at a time when there were hardly any books showing family diversity. The book raised hackles and inspired attacks on Leslea by social conservatives and the religious right; Heather has been on the banned book list every year since its publication.
Heather sent the message to kids who were different (because they had two moms, step parents, adopted siblings, or a single parent) that their lives were just as normal as kids in traditional families. "The most important thing about a family," Leslea told us in Heather, "is that all the people in it love each other."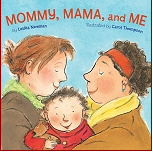 Leslea has never stopped writing (she has written 60 books to date), and her latest books, Mommy, Mama, and Me and Daddy, Papa, and Me, are a testament to her commitment to helping kids in gay and lesbian families feel just like regular kids. These sweet, simple board books depict a day-in-the-life of a well-loved child, a child like any other, who loves juice and snuggles and playtime and getting tucked in at night by their loving parents.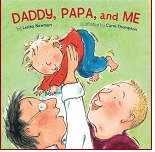 Through these books, kids with two moms or two dads can see their lives reflected. Kids who are different in any number of ways can see that their differences are not only okay, but something to be celebrated. These books aren't only for two-mom or two-dad families. They are for all of us, so that we can see—and teach our children to see—that there are lots of ways to be a family. And that means that these books belong in your preschool, in the collection of books you give at baby showers, in your neighborhood library, in your doctor's office waiting room. Because everyone should be reading these books.
Leslea has generously offered two sets of each book to two of my readers. That means if you win this giveaway, you'll get both books for your own enjoyment, your preschool, your local library, or your friends or family. Not only that, but they're autographed by Leslea, which only increases the awesomeness. Please comment below for a chance to win a set of these adorable books (and either leave your email address or friend me on facebook so I can find you if you win).