Dear Readers,
Many apologies for my recent blog hiatus–I've been working on some other projects that have occupied my writing time.
I've missed you all.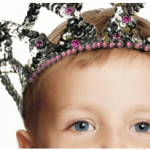 One of those projects is the essay up on Salon today, My Son, the Pink Boy, that takes a look at all the things we talk about here, and more: boys in dresses, why people assume boys in dresses are gay, why people assume it's bad to be gay….not to mention "refrigerator mothers," reparative therapy, anti-gay organizations, and Dr. Phil.
Give it a look and let me know what you think!
Love,
Sarah