Please note: while comments on this post continue to be welcome, the giveaway is now over.
If you've become my facebook friend, you've seen that my facebook icon is an itty-bitty pink onesie with the phrase Boys Can Wear Pink. The awesome San Francisco artists Debbie Hartung and Krishna Bhat of Rock n Roll Babies were generous enough to share that image with me, and now they want to share with you, too. Debbie and Krishna are offering baby, toddler, or kid clothes to the three lucky winners of this giveaway.
When Sam was a baby, even before I knew he was going to turn out pink, I was disappointed with the clothing options I found for him. So much of boys' clothing was in aggressively-patterned camouflage or covered in trucks, dinosaurs, or sharks. Many parents I talk to lament that they are frustrated with the options for dressing their boys. When I heard about the Boys Can Wear Pink line a few years ago, I bought t-shirts for Sam and all the pink boys I knew. (And I also bought the Mom Tattoo shirt for both my kids, because what mom could resist that?)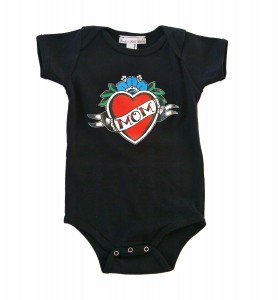 I love Rock n Roll Babies—and not just because they're subverting the dominant paradigm, one pink shirt at a time. I love them because all their clothes are vibrant and edgy and organic and fair-trade certified. And because they donate 10% of their profits to children's charities around the world. AND because they send used Rock n Roll Babies clothes to a local shelter—that's recycling, generosity, and helping people in need all at once. What's not to love?
Onesies are available for 3-24 month olds, and t-shirts and super-cute hoodies are available for 2-6 year olds. Visit the Rock n Roll Babies catalog and pick up treats for all the kids on your holiday list.
To enter to win one of these items, you'll need to leave a comment at the end of this post. The winners (there will be three!) will be randomly selected and notified by email—so please either friend me on facebook or include your email address in your comment so I will be able to find you if you win. Please also specify whether you'd like a Boys Can Wear Pink t-shirt, a Boys Can Wear Pink onesie, a Mom Tattoo t-shirt, or a Mom Tattoo onesie, should you get lucky.