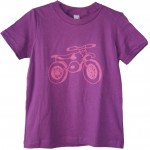 I am pleased to announce that the randomly-selected winners of the Handsome in Pink Giveaway are Deirdre and Sandra–congrats to you both!
Because I know the rest of you have not yet exhausted your shopping energy, head on over to Handsome in Pink for some really awesome, eco-friendly, gender-bending clothes for kids & grownups. Support this mama-owned business, dress your family, and transcend society's expectations at the same time!
And thank you, Jo, creator of Handsome in Pink, for your generosity and  commitment to breaking down ye olde gender stereotypes.
And Happy New Year to you all.