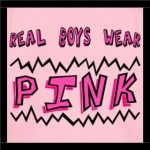 Please note: while comments on this post continue to be welcome, the giveaway is now over.
I got all happy when designer Kris Garst contacted me last week about the new Real Boys Wear Pink clothing & accessory line from her company, Squishylicious. Kris created the line of clothing and other cool stuff in response to the color stereotypes she encountered after her twin sons were born. "My boys love pink and purple, so I hate to see them stuck with traditional 'boy' colors," she told me. Kris found a broader color palate for boys in Germany, where she lives with her family, than she did in the US, and wanted to make more color and design options available for kids and grownups all over the world.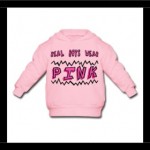 Courtesy of Kris, the lucky giveaway winner will receive an item of their choice from the Real Boys Wear Pink line. (To enter to win something Squishylicious, you'll need to leave a comment at the end of this post. The winner will be randomly selected and notified by email—so please either friend me on facebook or include your email address in your comment so I will be able to find you if you win.) If you don't need a t-shirt, you can choose a onesie or a sweatshirt (there are grown-up sizes too…don't miss the the pink hoodie and the Squishylicious boxers). And if clothes aren't your thing, check out the water bottles, tote bags, BBQ aprons, mugs, and more. My favorite is the black cap.
I also like her Tees for Tutus line, which would work oh-so-well on the little pink boys you know.
And if you don't win this giveaway (or you do, but you HAVE to have more), visit Squishylicious. You can support a mama-owned business, take care of your holiday shopping, and subvert gender stereotypes all in one swoop.
The contest ends this Sunday at midnight. Post your comments and spread the word!