Happy Halloween!
First, I would like to announce the winner of Jacinta Bunnell's gendertastic coloring book, Sometimes the Spoon Runs Away with Another Spoon! Our lucky winner, Emily Striker, randomly selected by the trusty random.org, will receive her copy by mail pronto.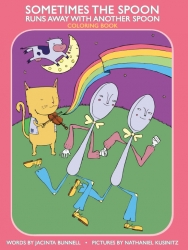 The rest of you, go out and buy the book here!
Second, I'd wanted to present you with a little poll in honor of Halloween. But I realized the questions I had in mind were slightly more cumbersome than what I could fit into a yes-or-no format. (If you have a pink boy or a transgirl, what was s/he for Halloween? If you have a tomboy or a transboy, what was s/he for Halloween? If your child is gender-normative, was s/he inclined to transgress traditional gender bounds in a way that…oh my.)
So since I can't quite sate my curiosity in a poll, I'll just ask—and encourage you to share in the comment section below—what were you and your family members for Halloween? Did anyone not get to be what they wanted…and why? Did anyone's choices surprise you?
I'll start: This year, Sam was a medieval mercenary. Ruby was a candy corn fairy. My husband was Dick Cheney. I was a mom. We all got to be what we wanted to be for Halloween, and it all surprised me.